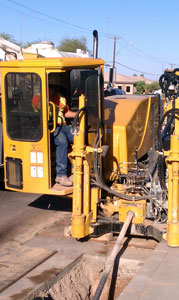 Tee Pee Contractors uses high tech, heavy duty equipment for our drilling services. We use a method of installing underground pipes and conduits from the surface along a prescribed bore path for horizontal drilling.
The process is used for installing telecommunications and power cable conduits, water lines, sewer lines, gas lines, oil lines, product pipelines and casings used for environmental remediation. It is used for crossing waterways, roadways, congested areas, environmentally sensitive areas and any area where other methods are more expensive or not feasible.

Tee Pee drilling methods for utility contractors always take into account for the following:
Less traffic disruption
Lower cost
Shorter completion times
Directional capabilities
Safer for the environment
Tee Pee Contractors is the Arizona expert in underground construction. We use the latest technology and equipment, we specialize in complex high-profile projects. We bring our expertise to the job site and the planning room. Our expertise in boring is well known to all utility and construction contractors in Arizona.
We invite you to contact us to discuss your next project.