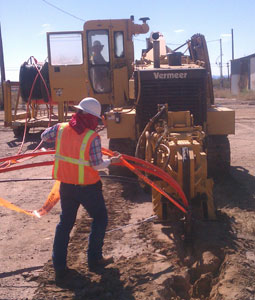 Tee Pee Contractors strives to provide its trenching contracts with superior quality projects at the lowest possible costs. Our customers, which include utility comapnies, private developers, counties, municipalities, state agencies and government agencies, have all come to expect our basic company values of safety, superior workmanship and customer satisfaction.
Our trenching experience goes back 50 years. Our special trenching equipment will get the job done and on budget every time. Our trenching service specialties include:
Sewer and Pipe installation
Cable and Fiber Pulling
New Systems Installation
Holding Tank
Repair Work
Utility Cable and Electrical Installations
and Much More
Contact us to discuss your next project.